We knew we were making life hard for ourselves when we decided to make a staggered monoblock directional wheel , we just didn't think it would be this hard. Up till the 0.06 was released all other staggered directional wheels of 3 piece construction with a huge price tag. All 4 wheels are different so you can achieve different looks with one set of wheels, you can run the wheels facing forwards or backwards or even the front wheels facing forwards and and the back facing backwards. We were the only people crazy enough to do it.

Features:
Made from prime alloy ingot A356.2 aluminium.
3SDM wheels pass rigourous Impact Test, Radial Fatigue, and Corner Fatigue before they go in to production.
Radial lines are almost invisible before going through a seven stage aerospace pretreatment.
Wheels have a powder clear coat on all gloss finishes.
Wheel Specs:
Silver Cut Finish
Size: 19 x 8.5
Bolt Pattern: 5x112
Offset: +35/42mm
Package Includes:
Classic 3SDM Centre Cap
3SDM Sticker Pack
Proposition 65

WARNING: Cancer and Reproductive Harm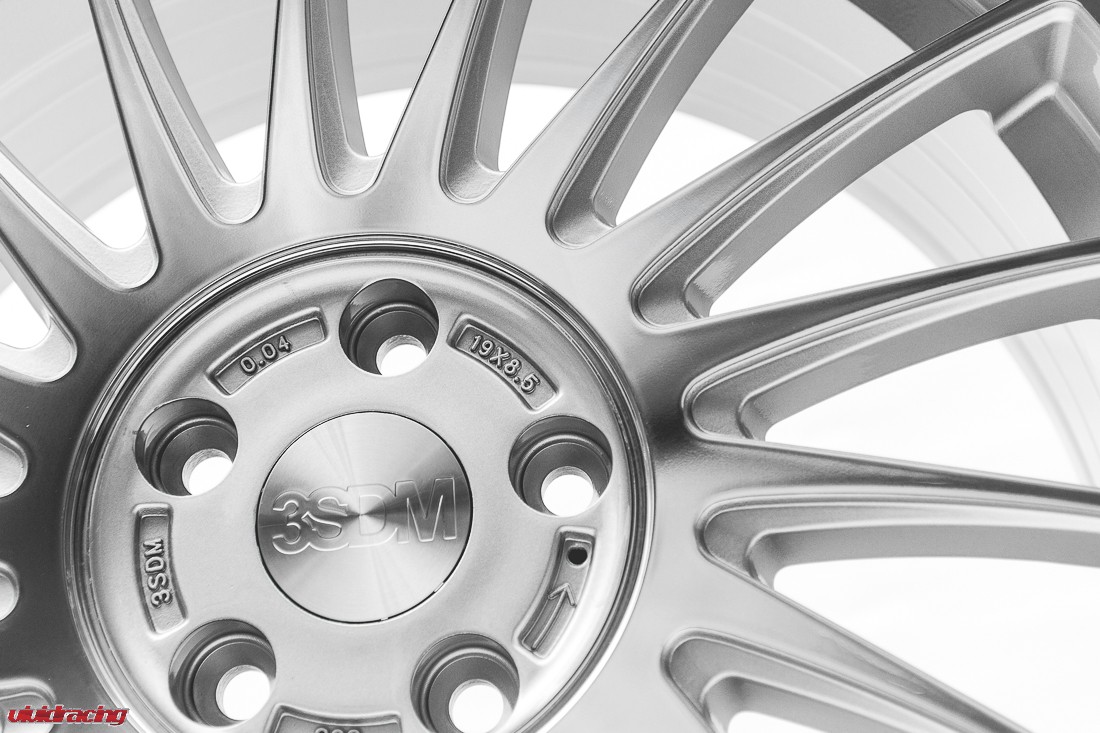 Who is 3SDM?
Formed in early 2011, 3SDM is a brainchild of a group of open-minded car enthusiasts who share the same passion. Tired of having the same old wheel design, they decided they would create something new that would appeal to the market. Thus, 3SDM was born.
Based in England, the company produces a more unique design that appeals to those who wanted something out of the norm. Today with almost a decade of experience in the wheel industry, they have become one of the most sought after wheel of choice of car tuners all around the world.
Growing Company
3SDM has continuously improved itself as a company since its beginning. Due to the success of their wheel designs, they have been the go-to brand by other well-known custom car builders including Liberty Walk.
In 2016 they introduced their first line of forged wheels using various manufacturing processes namely Spin Forged and Flow-Formed. This enables them to accommodate the growing demand of the automotive industry.
Build with Quality
All 3SDM wheels are made in-house in the UK - from conceptualization to manufacturing. With today's customizing trends of doing crazy stance and extreme wheel offsets, 3SDM offers wheel designs that are made to accommodate a wider range of offsets and brake clearances.
All their wheel designs are made out of prime alloy ingot and tested using industry-standard methods like impact tests, corner fatigue test, and radial tests. Because of their manufacturing technique, 3SDM wheels are able to create lighter and stronger wheels compared to their OE counterparts.
Purchase 3SDM wheels at Vivid Racing
If you are in search of a custom wheel design that would make you stand out from the crowd, then check out 3SDM. With several wheel designs and sizes to choose from, 3SDM has the right set for you.
Visit Vivid Racing to see what 3SDM has to offer.



Anodised finishes: Note that anodising is a hard and durable finish but it is very susceptible to Sodium Hydroxide (caustic soda) and solutions containing this must be avoided.

3SDM Wheels offers a 12 month warranty on finishing and a lifetime structural warranty excluding those claims that are resulting from improper use or accidental damage. The 12 month warranty on finishing excludes fair wear and tear such as scratches, external damage such as kerbing and user neglect or care error's such as using acid based products to clean your wheels. We can provide detailed information on how to care for your wheels on request.

Should there be any issues on finishing, such as pitting or chipping of the painted / plated surfaces please contact 3SDM Wheels initially to check if the issue falls within our warranty coverage. After the initial contact, if it's thought that your wheels may fall under the warranty criteria 3SDM Wheels will require that you send them photos of the problem via email so a further assessment can be made prior to any further action. If it's felt that your wheels may fall under warranty 3SDM Wheels will liaise with you over the return to base of your wheels.

Once received, They will inspect the product to confirm the issue is as the result of poor workmanship or materials. If is agreed that the fault is with workmanship or materials 3SDM Wheels will rectify or replace the relevant components free of charge however, If it is found that the issue is not due to workmanship or materials but rather user neglect or error, then no remedial work will take place under the warranty procedure and the wheels will remain at 3SDM Wheels premises for your collection. Depending on the nature of the work needed to rectify the fault 3SDM Wheels may carry out the work at a pre agreed cost with yourself - this offer is on a set by set basis and there is no obligation for the company to carry out this work.

When returning wheels to 3SDM Wheels It is your responsibility to get the wheels back to them safely by being properly and securely packaged, 3SDM Wheels is not responsible for any shipping damages.

Please note: you MUST contact 3SDM Wheels prior to returning any wheels under a warranty issue. Wheels that are returned without prior consent and authorisation will be refused by the goods in department.