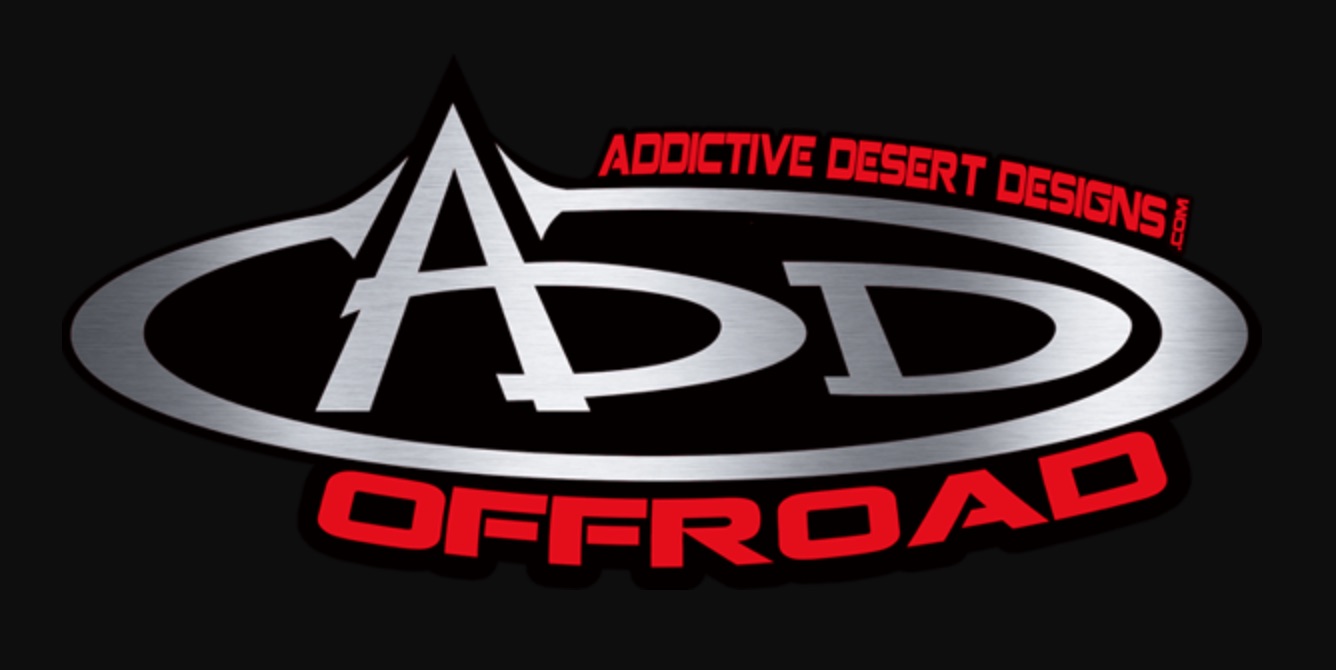 Addictive Desert Designs
If you are an offroading enthusiast, you want to do everything possible to prepare your truck, Jeep, or SUV to tackle all terrains. As you speed through the desert, you want to make sure you have a somewhat smooth and safe ride. That is why Addictive Desert Designs offers top of the line aftermarket truck parts and accessories, helping you get your vehicle ready for the rigors of the offroad life. Vivid Racing is proud to partner with Addictive Desert Designs to offer high-quality offroad additions at an affordable price.
What is Addictive Desert Designs?
Addictive Desert Designs (ADD) was born from an "addiction" to push the limits of "design" with a love for the "desert." Those three words have driven Addictive Desert Designs to pursue its goals of engineering the world's toughest and most visually appealing products for SUVs, trucks, and Jeeps. It may sound like a mouthful, but every bit of it makes sense when you see their product lineup and ultimate success in the automotive industry.
Addictive Desert Designs started out in a garage just outside of Phoenix, Arizona in 2007 as R&H Longtravel. It is now occupying a massive 80,000 square-foot production facility and corporate office in Mesa, Arizona. The new facility is a huge leap from the company's days in a tiny garage, and ADD continues to lead the way with product development.
Addictive Desert Designs continues to raise the bar when it comes to styling, ruggedness, and overall functionality. This is evident from the brand's Ford Raptor SVT bumpers and suspension to its ever-growing product lineup that covers nearly every modern truck on the market.
Why Choose Addictive Desert Designs?
All products by Addictive Desert Designs are engineered and manufactured in the USA with the hard-core off-road enthusiast. Its extensive aftermarket lineup of bumpers, side steps, roof racks, and accessories is designed to unlock the potential of any SUV, Jeep, or truck. Each individual body part made by ADD is finished with a tough powder coating that offers unmatched protection from the elements and harsh conditions faced when driving off-road. If you crave something that will set your vehicle apart from the rest and really give it that rugged look, then ADD is perfect for you. Addictive Desert Designs allows you to think outside the box and customize your ride to your particular taste. With the brand's extensive lineup of high-quality parts and accessories, your ride can double as a workhorse and show horse.
Aftermarket Additions to Add Offroad Capabilities
Addictive Desert Designs offers a number of different products to add offroad capabilities to your truck, Jeep, or SUV. Many customers opt to add bumpers, truck bed racks, and other truck accessories.
Add Bumpers
Bumpers are an essential addition for anyone who is serious about offroading. You can choose to add a rear bumper, a front bumper, or both. An offroading bumper keeps your car safe from all of the obstacles you are bound to encounter when driving offroad in the desert, including large boulders, plant life, animals, and even other vehicles!
Add Offroad Truck Bed Racks
Add an offroad truck bed rack to help you illuminate the road, as the racks allow you to properly install an LED bar. When you leave the safe confines of the road there are rarely any streetlights, so having some kind of light bar is a necessary addition. A truck bed rack helps you safely and securely install and protect an LED light bar.
Add Truck Accessories
Add truck accessories to your vehicle to help create a memorable and exciting offroad experience. Some popular truck accessories sold by Addictive Desert Designs include lighting fixtures, car stereo and radio additions, new wheels, and much more! No matter what your offroading needs are, we have got you covered.
Upgrade to ADD at Vivid Racing
Vivid Racing carries an extensive inventory of Addictive Desert Designs products to help you create the ultimate look for your off-road vehicle. Whether you are looking to add style, function, or both, we have what you need to upgrade your ride and take it to new heights. Our lineup of ADD parts includes roof racks, sway bars, winches, front and rear bumpers, rocker panels, light mounts, fenders, big brake kits, and much, much more! If, by some chance, you cannot find what you're looking for, please call our parts specialists at (480) 966-3040.
Addictive Desert Designs warrants all parts of its manufacture, furnished under this agreement, to be free from defects in workmanship and material for a period of ONE YEAR from the date of purchase. This limited warranty covers the cost of the product.
This limited warranty does not cover:
installation
labor
freight
normal wear and tear
abuse
damage caused by mis-used
damage caused by collision.
This limited warranty does not cover any consequential damages, including but not limited to the expense of being without the vehicle during inspection or repair/replacement period, delay, or mileage. Additionally, any and all implied warranties (including the warranty of fitness or merchantability) are limited for a period of one year from the date of purchase. This limited warranty is void if the product shows signs of alteration, modification, misuse, mishandling, improper care, and/or neglect. Also, this limited warranty is void in the event of improper installation. The liability of Addictive Desert Designs under this warranty is limited, and at Addictive Desert Design's option, solely to repair or replacement with equivalent products within a reasonable time.
This limited warranty is conditioned upon:
Addictive Desert Designs being notified by Purchaser within one month after discovery of any defects
the return of the defective product(s) to Addictive Desert Designs at Purchaser's expense within the limited warranty period; and
Addictive Desert Design's examination of such product(s) and its satisfaction that such defects were not caused by negligence, misuse, improper maintenance, accident, or unauthorized repair or alteration.
The original limited warranty period of any product repaired or replaced by Addictive Desert Designs shall not thereby be extended. During the warranty period, this limited warranty is not transferable.
For more information please
Click Here