Ahwatukee Foothills New on Vivid Racing
Here is an article on Vivid Racing's Rob Rohn and Dan Mermelstein, Mountain Pointe High School grads, in the Ahwatukee Foothills news that was posted on July 18, 2013.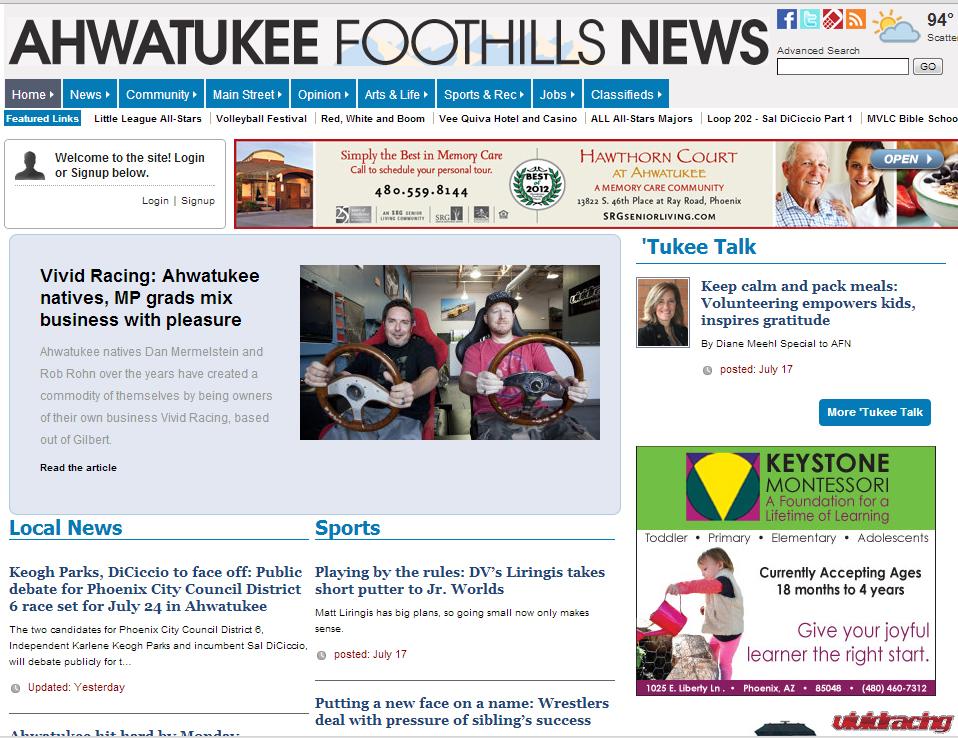 By Daniel Ochoa, Ahwatukee Foothills News
Ahwatukee natives Dan Mermelstein and Rob Rohn over the years have created a commodity of themselves by being owners of their own business Vivid Racing, based out of Gilbert.
Vivid Racing's main business is the distribution of performance parts for cars, ranging from retail and wholesale, with the majority of business shipping parts all over the world to customers who are modifying their vehicle. The auto parts disturbed from Vivid Racing can range from exhaust systems, suspension parts, superchargers, and other auto parts fitting their customer's needs.
Mermelstein and Rohn began Vivid Racing back in 2001, and have seen prosperities throughout the decade. They began looking at different locations, setting up shop in Chandler before choosing their current location in Gilbert in 2008.
However, back in their fraternity days at Arizona State both began setting up shop for their business at the frat dorms.
"Some of it was done as I was living at home for a couple years in Ahwatukee, doing some of the shipping there," Mermelstein said. "It was kind of born and bred from the parents' bedroom, as well as at ASU." The facilities of Vivid Racing are a hybrid of business and pleasure all wrapped into one. The atmosphere has a casual feel because of the products they sell, and is designed for phone sales, Mermelstein said.
"Car guys are car guys, so to make them wear polos or something like that just wouldn't fit," Mermelstein said. "It's more important to me that people get the job they're assigned to do and that they are expected to done, rather than what they look like."
In the building workers are seen manning the phones in their own confined cubicles, as Mermelstein walks down the hallway sporting camo shorts, a red T-shirt and a DC-fitted cap.
In the back of the Vivid Racing office there's a car garage, housing auto parts towering as cardboard box skyscrapers and mechanics working as Dr. Frankenstein, their own vehicular monster. Rather than each owner having a corner office, that portion of the building sports a mini bar where colleagues can unwind after a hard-day's work, with photo colleagues hanging on the wall from past memories participating in the Gum Ball 3000 rally in Europe.
Both Mermelstein and Rohn are graduates of Mountain Pointe High School, sharing a common interest in being more business driven, which wasn't related to cars in the beginning.
The two met in marketing class their senior year, later sharing an apartment with one another for one year while attending ASU. Originally during his first year as a Sun Devil, Mermelstein had hopes of becoming a mechanical engineer, but discovered how tempting party life at ASU could actually be.
In what he said was a short story, Mermelstein went from being a 3.8 GPA student from Mountain Pointe High, to a 1.7 GPA freshman getting thrown out of ASU, spending the next year at Mesa Community College trying to get back into the good graces of ASU's academia.
About that time Rohn and Mermelstein began their business. Mermelstein figured he was enjoying the business side of the profession and the development of marketing, leading him to graduate at ASU in business. "We have always evolved in different ways from other businesses that are more focused on how fast they make their cars and other stuff, where we are focused on the business to continue to grow and expand," Mermelstein said.
At the moment, Vivid Racing is trying to reach a large goal and distribution, making a stronger presence marketing in other countries, and making it as big as they can.
"The end goal is to build it up as big as we can and sell it off for one day to be able to sit on an island somewhere, but we are living in the now having a good time doing it."